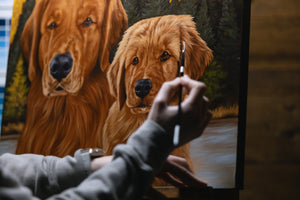 Amanda enjoys working closely with clients, often in preserving a legacy of a sporting dog, or bringing a scene to life.
As artwork is a form of storytelling, the commission process is based on communication - in an effort of creating a translating piece, that will last for generations.
Booking Process
Commissions are booked based upon availability, and approved reference photos. You must reach out via email to secure a spot.
Together, Amanda will discuss the details and vision of the commision with the client, and review submitted reference photos.
Once reference photo(s) are approved for quality, a 50% payment upfront upon contract agreement will officially secure the next available opening.
Once the commission is booked, Amanda will provide a digital "mock-up" of the commission for the client to review if needed.
After completion of the commission, Amanda will send photos/scan of the piece to the client for review and approval, to ensure complete satisfaction.
The remaining 50% balance will be due prior to shipment.
Medium Options
There are three medium options available - each offered in different sizes
Investment
Commissions are divided into two payments
50% of the total will be due upfront upon contract agreement, the remaining amount will be due upon completion, and client approval.
Pricing varies depending on size, medium, and needs of the overall project - starting at $700
Fill out contact form below for a custom quote or inquiry
Additional photography services are available
Returning clients receive a discount
You can find more in depth information on commissions here.
★★★★★

"Amanda far exceeded all of my expectations. She was inclusive and responsive during the entire process, giving updates and answering every question I had. The final product, however, absolutely blew me away. The attention to detail, the accuracy of life in our dog's eyes: PERFECT. This is something I will treasure for many years to come."

Matt H.
★★★★★

"Amanda was a true professional during the process for both of portratis. She was eager to get the drwaings to be just how we would like them and was able to capture both of our boys perfectly. We were blown away by how beautifully and accurately she portrayed our dogs. Her talent is special and will be a blessing for our family for many years to come. These pieces will be special heirlooms for our son in the future."

Yvonne M.
★★★★★

"Amanda is an amazing artist who understands how much our dogs mean to us. From the very beginning of our commission I knew that we were in great hands. She created a life like portrait of our chocolate lab that will be a family keepsake for eternity."

Chris S.
★★★★★

"Amanda is an absolute pleasure to work with. I was very impressed by her communication throughout the entire process and her ability to capture the likeness of our dog so beautifully. I would highly recommend considering her for a special commission."

Chelsea L.
★★★★★

"Amanda was such a pleasure to work with. First off, she is kind and takes so much pride in her work. I appreciated that she was always asking for feedback and she wanted it to be perfect. No feedback was needed as everything she did was perfect. She didn't miss a beat, communication was seamless, expectations were set and executed. We will definitely have more pieces done by her and have recommended her to many people."

Lauren S.